Here are the best Free Ambient VST Plugins online that can be used with FL Studio, Reason, Ableton Live, and other VST supported software. Dual Oscillator – The. A curated selection of the best free 64 bit emulations of analog synths in VST or Audio Unit format for Mac OS X or PC Windows. These VSTi can be used in Ableton Live, Logic Pro, Steinberg Cubase. This VST has Oscillator Sync, Chorus, an independent LFO that includes oscillator drift & stereo panning, & has a fully programmable Digital Delay! There is no dedicated Noise Generator as on the original Mini, However white & pink noise are selectable on Osc 3.
Last Updated on December 15, 2020 by
What is an Oscilloscope
An oscilloscope uses a two-axis graph to give a visualrepresentation of a waveform over time; the horizontal axis represents time andthe vertical axis represents the amplitude.
In musicproduction, oscilloscopes are usually placed last in the chain and are used toto assist dynamics processing and sound synthesis.
The point of placing it last in the signal chain is so that itanalyses the cumulative effects of any plugins placed before it.
However, you can place it anywhere you like to view the signalat that precise point.
Now that that's out of the way, let's more on to theplugins!
Best 5 Free Oscilloscope VST
MOscilloscope by MeldaProduction (Windows, Mac)
MOscilloscope is a powerful oscilloscope equipped witha pitch detector.
This would be my top oscillator choice of this list, bothfor 32-bit and 64-bit Windows and Mac systems.
Download it here.
Related: Here's a huge list of the 225 best Free VST plugins available!
Oscarizorby Sugar Audio (Windows, Mac)
Oscarizor is a free oscilloscope VST/VST3/AU plugin for Windowsand Mac.
Despite not having as many features as the Pro version, whichI will link later on, Oscarizor is still a very functional oscilloscope that offersa lot of value.
Features
2D / 3D full featured parametric multi analyzer
Multi channel waterfall spectrum analyzer audioplug-in with mountains, bars, cylinder and tube models
Parallel waveform & spectrum comparisonusing side-chaining and send/receive channels
DAW host synchronization, initial autosync toreceives & resync to receives button
Automatic instrument tuner with FFTsize and function memory
…and many more!
Download it here.
Oscillos-Mega-Scopeby Schulz Audio (Windows, Mac)
Oscillos-Mega-Scope is an oscilloscope plugin that synchronizesto your music's tempo.
It's a great tool for learning what other VSTs do to yourtracks; you can insert one instance of it before the effect plugin and anotherone after it to get an accurate visual representation of what's happening.
It's got a feature that is currently in beta which isdesigned to let you measure and see information about the musical notes andamplitude.
Features
supports multiple channels / test-points
multiple draw modes (precise, shaded, and more)
preset management
different zoom-levels (1/32th note to 16 bars)
multiple visualisation modes (separate waves,combined waves)
input-level adjustment
…and many more.
Note: To be able to use it you'll need to create anaccount.
Download it here.
Related: Here's a list about the best Free Mastering VSTs.
S(M)exoscopeby Smartelectronix (Windows, Mac)
S(M)exoscope has always been considered by many to be thebest free oscilloscope out there, the issue is that it only works on 32-bitsystems.
Now, if you're still using a 32-bit system, then absolutelyget s(M)exoscope since it's the absolute best choice.
Download it here.
Oscilloscope by SocaLabs (Windows, Mac)
This is a free stereo oscilloscope VST/AU plugin that issuper simple to use, with a resizable UI, and more.
Features
StereoOscilloscope.
Negativeor positive edge trigger.
Adjustabletrigger level.
YOffset per channel.
Download it here.
Best Premium Oscilloscope VST
OscilloscopeMulti by Blue Cat Audio (Windows, Mac)
Oscilloscope Multi letsyou visualize the content of several audio tracks on the same screen andcompare them thanks to its X-Y view.
The plugin offers stereo ormid-side channels waveform extraction as well as several synchronization modes.
The zooming and precisemeasurement capabilities let you analyze the waveforms in details, and the XYphase scope view will help you track phase issues within an effect chain orwhile recording with multiple microphones.
Features
Multiple tracks real time oscilloscope:visualize and compare the waveform of several audio tracks on the same screen.
Waveform display with loop, flow and triggermodes.
Histogram display.
Dual channel XY phasescope view for easy phasecancelation and mono compatibility issues detection on multiple tracks orwithin an effect chain.
Latency compensation capability to alignwaveforms.
…and more!
Find out more about Oscilloscope Multi here.
Oscarizor Pro (Windows, Mac)
I mentioned the free version of Oscarizor previously, whichshould actually be more than enough for almost anyone.
However, the Pro version syncs to the tempo of your song,which is always nice.
Additionally, it comes with a sidechain input with parallelwaveform comparison for up to 16 audio channels which would allow you to, forexample, send a complete drum mix to a separate sidechain inputs and compareany two tracks you'd like.
The Pro version sells for $49.95 + Taxes.
Download it here.
Conclusion
Best Free Vst Oscillator
Like I mentioned, Moscilloscope would be my top choice.
However, Oscilloscope by SocaLabs is still a greatcontender that you should check out!
Have a wonderful day!
In this list i bring you some new free plugins you can download and use in your musical productions. This top 10 Best Free VST is a selection of some of the newest and most interesting plugins i could find these days. Enjoy!
Contents
1 Piano One – Sound Magic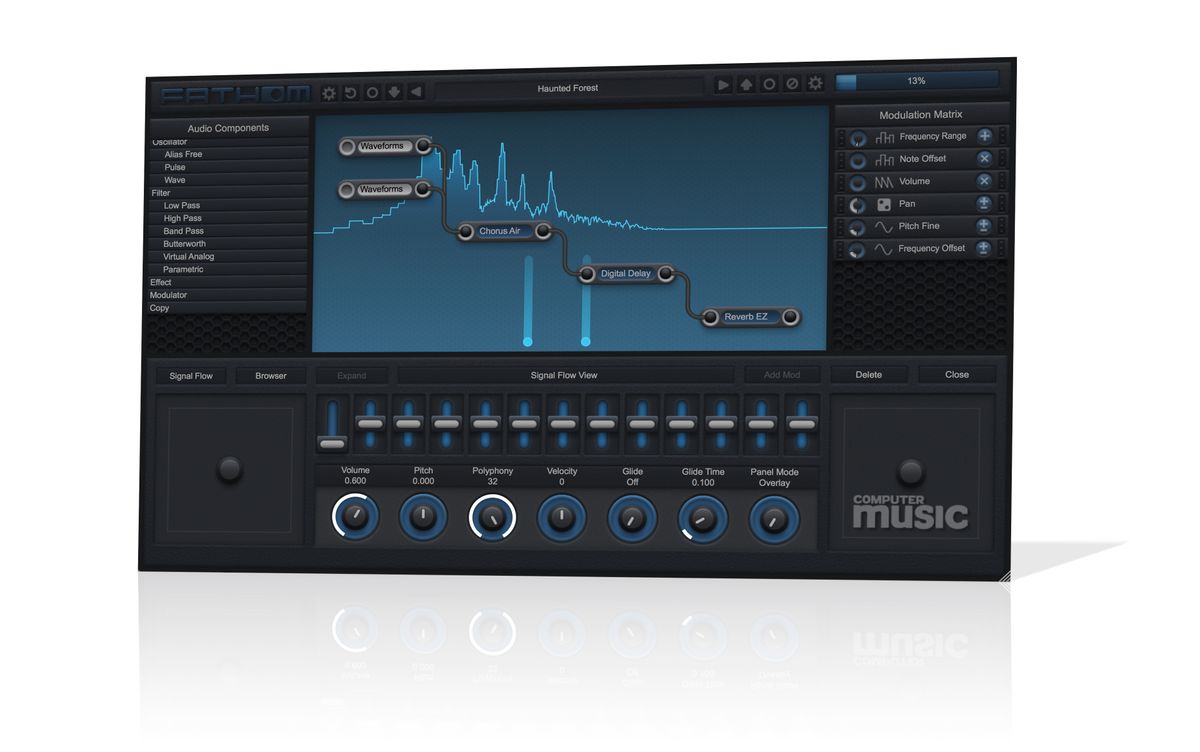 2 TyrellN6 – U-he
3 Oberom – Sample Science
4 Drum Pro – StudioLinked
5 Synthetic Vortices – Sample Science
6 SQ8ROM – Sample Science
7 Sinnah – NUSofting
8 K1Ks – Krakli
9 Surge
10 Komplete Start Bundle – Native Instruments
11 Bonus Plugin:
This VST is an emulation of Yamaha C7 concert grand keyboard. The sound is very high quality and natural. This plugin is perfect for Jazz , Blues and for cinematic productions. Piano One has some limited features for the free version – but it still sounds pretty amazing for a free plugin . Giving away this powerful instrument – Sound Magic hope is to bring more artist to try and buy their other high quality software.
https://neovst.com/piano-one/
TyrellN6 – is a classic sounding synths with few modules , novel features and vintage/ analogue sounding modulation. With 2 oscillators , 2 LFOs ( with 8 waveforms ) and around 580 presets, this VST is a powerful tool for electronic and synthwave production. Above all this is a free VST , and with all those presets and quite customizable controls – you can create your own unique and personal sound .
https://u-he.com/products/tyrelln6/
Oberom is a plugin that imitate the classic analog polysynths. Created by Sample Science – this software is now free. As a result of a great but simple design , this plugin is easy to use. Oberom has different features , such as 2-pole dual filters and 16 vintage sounds, including several controls , such as attack, decay and sustain .Therefore it is quite useful for synthwave , vaporwave and other 80s inspired electronic music.

https://www.samplescience.ca/2019/10/oberom.html
Drum Pro is drum rompler with sounds inspired by vintage beat boxes. In addition to 20 drum kits , ADSR / Reverb and 12 pads – this free VST brings a higher quality sounds and samples for you to explore. Drum Pro is perfect for Hip-Hop , Rap and Trap music , but could be also used in many other genres if you need powerful and groovy drum sets.
https://www.studiolinked.com/drum-pro/
Synthetic Vortices is a free VST created by Sample Science with great selection of ambient samples. Every sample is looped seamlessly using Sfz mapping . This unique plugin brings a big library of 80 different sounds . Beautiful but simple design and several controls like attack , decay , sustain and release , makes this synth a great addition to music producers .
https://www.samplescience.ca/2018/08/synthetic-vortices.html
SQ8ROM is a free plugin that emulates Ensoniq SQ80 synthesizer. In addition to 50 basic sounds ( you can download a free expansion for a total of 168 sounds ), amplitude ADSR , Reverb and Multi-LFO , this plugin brings us this vintage sound , perfect for vaporwave , synthwave and possible 8-bits and 16-bits chiptunes.
https://www.samplescience.ca/2019/09/sq8rom.html
Sinnah is an interesting ambient synth based on a single complex oscillator. This unique VST has five waveshapes to choose from, with their own noise , harmonics and delay levels. This plugin uses a resonant delay network to wrap the sound in this high quality envelope. In conclusion : this VST is a great tool for any production , bringing you a unique set of soundscapes.
Best Free Oscillator Vst
http://nusofting.nusofting.com/Sinnah_VA_synth.html
K1Ks is a free VST created by Krakli ,that takes pride in its analogue and vintage inspirations. Firstly , this plugin gives us 3 powerful oscillators you can twitch and create your own sounds with. Secondly , the great selection of effects like chorus and flanger , as well as LFO ( 3 types ) options will give you enough options to try. Finally , and most importantly , this synth emulates the sound of the famous Stranger Things series , therefore it is perfect for 80s sound genres.
http://www.vst4free.com/free_vst.php?plugin=K1Ks&id=2940
Surge is a free and open-source plugin with this interesting subtractive hybrid method for synthesis of their sounds. In particular i could praise the infinite possibilities of the controls and option you have with this synth. Surge has 1010 patches with 183 wavetables to use. Also i could talk about the oscillators of this plugin ( 3 per voice) , especially the selection of algorithms , such as Classic , Sine , Wavetable , Window , FM2 , FM3 ,S7H Noise and Audio input. Moreover , this free VST has 12 LFO and 8 effects to choose from , like Delay, Reverb, Chorus , Phaser ,EQ ,Distortion , Rotary speaker, and Vocoder.
In conclusion , Surge is a great synth and a perfect fit for a musician who needs a personal and highly customizable software for their music.
https://surge-synthesizer.github.io/
Komplete Start Bundle from Native Instruments is an another must-have for every aspiring music producer. In addition to a great selection of high quality instruments and effects ( 18 in total ) , this bundle is very easy to use with any midi device. And as always with Native Instruments , all this bundle is wrapped up with a high quality samples and a great variety of presets to use in your musical production of any kind.
https://www.native-instruments.com/en/products/komplete/bundles/komplete-start/
Kee Bass – Martinic
This plugin created by Martinic is an emulation of a early mono bass synth Rheem Kee Bass . With this groovy 60s sound and several options for modulation , filter and Bright-Mellow , Kee Bass is a great addition to any vintage sound. I personally like the design and the visual presentation of this software , that feels like a true vintage machine from the 60s.
https://www.martinic.com/en/products/kee-bass