If you are looking for a best free tube, analog tape saturation VST plugin emulation, check the list bellow and download some great free saturation plugins. Remember, this is not a top, is a list. All plugins posted bellow are good, depends on what you are looking for. FerricTDS by Variety Of Sound.
Lots of people are obsessed with the 'warmth' of analog studio gear. Sure—it sounds fuller, more human, more present.
But these days, modeling technology has become really good at simulating the effects of analog circuitry. Our computers and DAW apps are powerful enough to handle these VST workhorses.
So forget about spending tons of money on analog gear.
Here's 7 VSTs (for both PC and Mac) that will give you that sweet analog warmth.
SGA1566 Tube Preamp
TDR Slick EQ
Ace Amp
Molot Compressor
Voxengo Tube Amp
MJUC jr. Compressor
Softube Saturation Knob
What's all the analog fuss about?
Ok, so what does analog circuitry do to your sound? What's everyone so obsessed about?
What people like about analog sound are the quirks and imperfections.
So when people talk about 'warm analog sound' they're referring to:
Subtle distortion and drive
Harmonic distortion
Tape Saturation
Vacuum tubes
Preamps
What these processes do to your sound is often hardly noticeable. That's what the magic's about—you won't hear them, but they'll make a huge difference in how your track sounds and feels.
The cumulative effect of analog processes is what people are gushing about.
1. SGA1566 Tube Preamp
Shattered Glass Audio's SGA 1566 gives you a single channel vintage tube preamp. The whole circuit is simulated in real time to get you that authentic analog sound.
Use the SGA 1566 as a saturation compressor to boost the warmth of your track. Or add a bit of grit with the tube overdrive.
The newest version is also lighter on your CPU––so no computer freak outs!!
Download the SGA 1566 for free here.
2. TDR Slick EQ
"This little guy sounds amazing" –Dave Pensado
The TDR Slick EQ is a sleek easy-to-use three-band EQ that gives you amazing sound—like all Tokyo Dawn Records plugins.
Warm up your sound by choosing a non-linear option under Output Stage. That'll add subtle harmonic distortion and texture.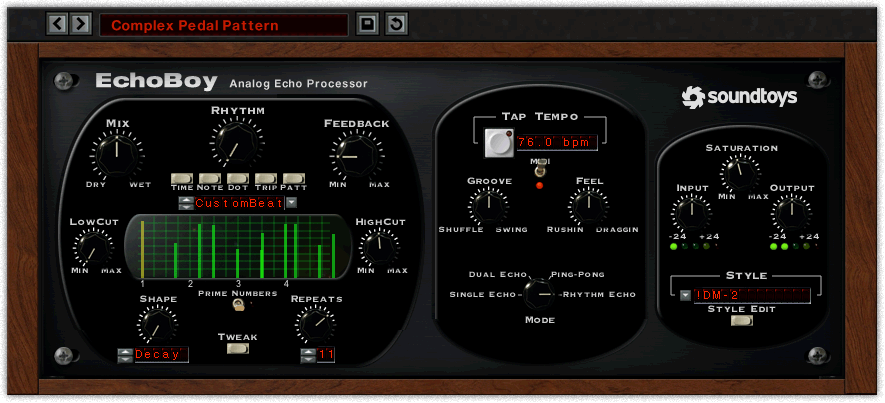 Download the TDR SlickEQ for free here.
3. Ace Amp
Ace Amp—another Shattered Glass Audio creation—is based on classic 1950s style tube amps.
Control the input, volume, feedback, output. Choose between three resampling options.
This amp plugin has simple controls and doesn't eat up your CPU.
Hot Tip: Try it on vocals for a cool aesthetic effect.
Download the Ace for free here.
4. Molot Compressor
Vladg's Molot is a compressor with character. Even the vintage Soviet look is on point.
Molot will give your sound interesting color. I recommend reading the manual to learn how to tune it properly—it's worth the read.
Download Molot for free here.
5. Voxengo Tube Amp
Voxengo's Tube Amp gives you warm overdrive, fuzzy distortion and everything in between.
It imitates tube overdrive in the style of single-tube mic preamps.
Hot Tip: Use the low-pass filter to imitate the texture of lower-quality tubes.
Download Voxengo's Tube Amp for free here.
6. MJUC jr. Compressor
Klanghelm's MJUC jr. compressor is simple and elegant.
Use it for smooth compression or a heavier pumping effect. MJUC jr. is based on vintage compressors of the 1960s––it even looks like one.
Flip the 'Time Constants' switch to choose between slow, fast and auto. This changes the attack and release time. It affects other parts of the circuitry too, giving you interesting analog-style saturation.
Download the MJUC jr. for free here.
7. Softube Saturation Knob
This Saturation Knob is one the best free analog emulation plugins out there. Even Dave Pensado gives it two thumbs up!
Use it anywhere to add some character and distortion. Drag it on your vocal track to add shimmer.
The great thing about this one is how simple it is: literally one knob and a switch. Change the switch setting to choose between the kind of distortion you'll get.
Tape Loop Vst Plugins
Download the Softube Saturation Knob for free here.
Fake It Till Ya Make It
These effects are the missing ingredient in your digital sound.
The key with analog emulation is to avoid overdoing it. Bring in the effect until you hear it, then dial it back a notch. It'll still make a huge difference. Your sound will be fuller and warmer.
Use these plugins and people will be asking for your studio secrets in no time.
Make sure to grab the whole LANDR-approved free VST plugin collection:
GSi has released VariSpeed, a freeware emulation of the WEM Copicat IC400 tape delay unit in VST, VST3, and AU plugin formats for 64-bit DAW software on PC and Mac.
VariSpeed emulates the Watkins (WEM) Copicat IC400 tape delay, one of the most sought-after vintage tape delay units. The IC400 was WEM's first echo machine. The unit is known for its variable-speed belt drive motor, which, as the moniker "VariSpeed" implies, allows the IC400 to change the delay time.
See also: Baby Comeback Delay Plugin Is Now FREE For All
The original Copicat IC400 is unusually flexible for a vintage tape delay unit. It can pull off short slapback delays and groovy off-beat delays with ease. IC400's secret sauce, though, are those never-ending swirly echo swells that can take a life of their own.
Sometimes I think it would make more sense to describe a tape delay as an instrument rather than an effect. Seriously, the range of sound effects one can build using a single sound source and a capable tape delay unit can often rival the flexibility of a basic subtractive synthesizer.
VariSpeed's interface design is heavily inspired by the original Copicat IC400. It even shows an animated tape loop that moves slower or faster, depending on the Varispeed knob setting.
The user can adjust the input signal for the left and right audio channels, the motor speed (delay time), repeat rate (delay length), swell (delay level), and the tone. The green, white, and red buttons toggle the three delay pickup heads. An on/off switch is also included as a quick and easy bypass method.
GSi VariSpeed features a help overlay which describes each control.
It is also worth noting that the GUI is freely scalable from 100% to 130% of its original size. The developers also provided a handy help overlay (pictured above), which describes each control parameter's functionality.
If you're a fan of vintage tape delays, don't waste your time and download GSi VariSpeed right away. It's one of the best freeware delay plugins in a long while. While you're at it, why not check out Wavesfactory's discounted Echo Cat (currently on a 50% OFF sale at Plugin Boutique, partner link) tape delay plugin, too?
VariSpeed is available for direct free download from GSi's website; no signup is required. The downloaded ZIP archive contains an EXE installer that extracts the plugin files to the correct hard drive location. Optional, users can submit a donation to support the developer's work.
You can use VariSpeed in all 64-bit VST, VST3, and AU plugin hosts on PC and Mac. A standalone version of the effect is also available.
More info:GSi VariSpeed(6.39 MB download size, ZIP archive containing EXE installer, 64-bit VST/VST3/AU plugin for Windows & macOS)
More articles: